Red Emperor's Immortal Flame is a topical liniment developed by Waterfield Wellness to provide a natural solution for individuals suffering from various pain conditions, muscle stiffness, and cold sensitivity. This product is particularly popular among those with debilitating arthritis, high-performance athletes, and people in trades who face chronic or acute pain exacerbated by cold weather. In this blog, we aim to provide an unbiased evaluation of Red Emperor's Immortal Flame based on personal experience, customer reviews, and expert opinions. We will also offer insights to help potential buyers make informed decisions.
Appearance and Design
Red Emperor's Immortal Flame comes in a 30ml glass bottle with a flow restriction top to prevent wastage. The product's brown color indicates the presence of potent herbal ingredients.
The eye-catching logo for Red Emperor's Immortal Flame was designed by Jeff Cote using watercolor. You can find more of Jeff's work at http://occidentaltaoist.com.
The flow restriction top is helpful in preventing wastage, but tapping and shaking the small bottle can be time-consuming in a fast-paced clinic.
Key Features and Specifications
Red Emperor's Immortal Flame is designed to combat cold and tight muscles, providing a warming heat that reduces pain and promotes healing.
This high-quality product causes little to no stinging sensation and is safe to apply before acupuncture treatments.
From a Chinese Medicine perspective, Red Emperor's Immortal Flame disperses Wind-Cold-Damp to treat Bi (Pain) Syndromes, warms and supplements the Yang Qi, warms the channels, promotes circulation, and stops pain.
Purchasing and Unboxing
Red Emperor's Immortal Flame is available for wholesale purchase (Case of 12) at $240 from https://reiftopicals.com/. Individual bottles (30ml) can be purchased for $45 at Valley Health Acupuncture Store.
The product comes in a small 30ml glass bottle, similar to many other essential oil products, and has a flow restriction top for controlled dispensing.
The strong yet pleasant wintergreen scent is the first thing you'll notice, followed by the brown color, indicating the presence of potent herbs.
Usage and Performance
Red Emperor's Immortal Flame is ideal for use before acupuncture treatments, with cupping and massage, to relax the tissue before needle insertion. It can also be applied after treatments for prolonged relief. The liniment is safe to apply before acupuncture as it doesn't sting and is not alcohol-based.
Red Emperor's Immortal Flame is a high-quality product made by Hugh Turcotte, who is committed to maintaining the highest standards. The product is efficient in providing a warming sensation and relieving pain.
The small quantity (30ml) and the flow restriction top make it difficult to use for symptoms that cover larger areas
Additionally, the product may cause discomfort for people with sensitive skin.
Pros
Effective in providing warmth and relieving pain: REIF has a well-formulated blend of ingredients that work synergistically to provide warmth and alleviate pain. This makes it a highly effective liniment for individuals experiencing discomfort due to Wind-Cold-Damp and Bi Syndromes.
Minimal stinging sensation:Since REIF uses a non-alcohol-based formula, it causes very little stinging upon application. This is a significant advantage, especially when used before or after acupuncture treatments, as it ensures patient comfort.
Beautiful design and packaging:The REIF bottle features an appealing design with a stunning logo created by Jeff Cote using watercolor. The packaging not only looks attractive but also provides a professional touch to the product.
High-quality ingredients: REIF is made using top-quality herbs and ingredients, ensuring its effectiveness and safety for users. The brand's commitment to maintaining high standards adds to its reliability and trustworthiness.
Strong wintergreen smell that can be used as an alternative to Vick Vapor Rub.
Cons
The biggest challenges faced is the amount of the product you are getting and the way it is applied. Being only 30ml. This is not a product you can use wastefully or apply to a large area easily. Although having used it in the clinic. I am surprised at how long a bottle will last. I use it on 3-5 people a day and I find that a bottle will last me 3-4 weeks. The brochure says "A little goes a long way. In one 30ml bottle of liniment, there are over 500 drops. At a liberal dosage of 6-8 drops per application, that's between 60 and 80+ applications from a single bottle, making it very economical." I think 60-80+ applications seem about right based on my experience.
A small 30ml bottle size may seem expensive to some: The 30ml bottle size may be perceived as expensive by some customers, especially when compared to larger-sized alternatives on the market. However, considering the quality of the ingredients and the effectiveness of the product, the price is justified.
Flow restriction top may be slow to use in a busy clinic setting: While the flow restriction top is designed to prevent wastage and allow for controlled application, it may be slower to use in a busy clinic setting. This could be a minor inconvenience for practitioners who need to apply the liniment quickly between patients.
In summary, Red Emperor's Immortal Flame offers several benefits, such as effectiveness in providing warmth and relieving pain, a minimal stinging sensation, beautiful packaging, and high-quality ingredients. The cons, such as the small bottle size and slow flow restriction top, are relatively minor compared to the advantages it provides. Overall, it is a worthwhile product for those seeking relief from pain and discomfort associated with Wind-Cold-Damp and Bi Syndromes.
Buy Red Emperor's Immortal Flame Today!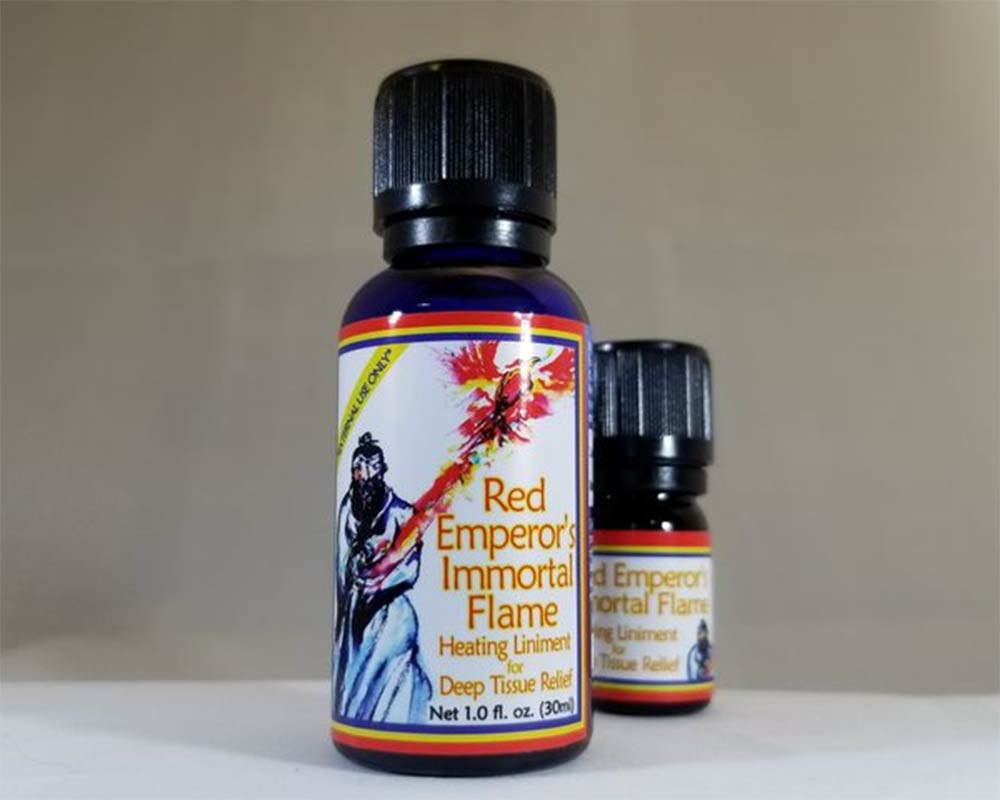 This liniment has been carefully crafted with a unique blend of organic medicinal herbs, non-GMO wintergreen, organic menthol, and organic olive oil to provide fast-acting pain relief for both chronic and acute pain.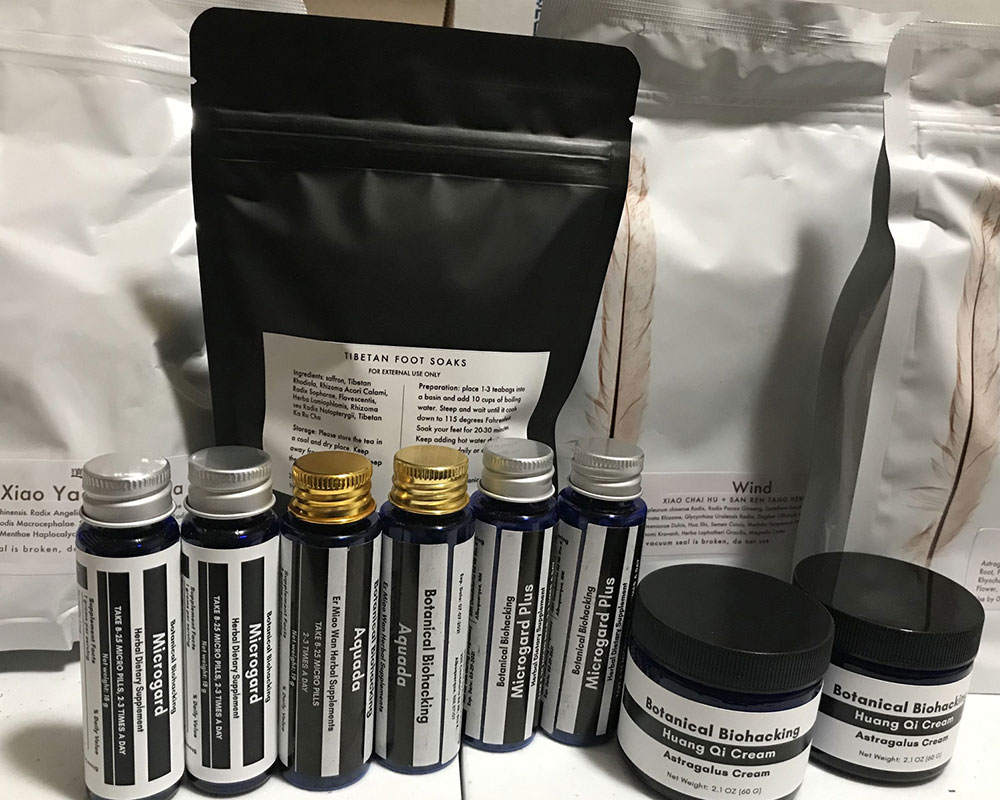 We make available natural products that have been observed to make a difference in the lives of our patients, friends and family. You're in good hands shopping with us.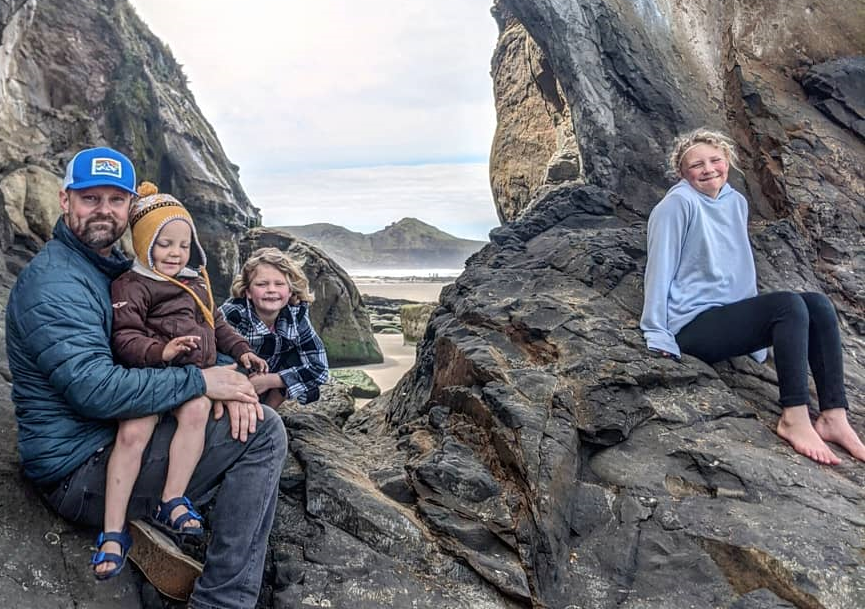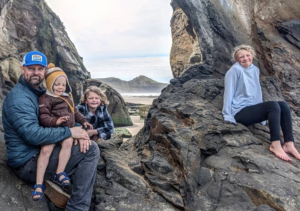 Willard Sheppy is a writer and healthcare practitioner who seamlessly melds scientific knowledge with practical applications in engaging and authoritative articles. He holds a Bachelor of Science in Environmental Science from Oregon State University and a Master's in Acupuncture and Oriental Medicine from the distinguished Oregon College of Oriental Medicine.
In his work, Willard skillfully combines his extensive educational background in scientific research with his practical experience as a healthcare practitioner. Willard balances his life with martial arts and cherished family adventures. As a father of three, he often leads his family on camping and hiking trips along the breathtaking Oregon coast.
Connect with Willard on LinkedIn at linkedin.com/in/valleyhealthclinic or learn more about his services at valleyhealthclinic.com. Embark on this journey towards holistic health with Willard!