Developed by a Chinese Master Herbalist over 500 years ago, Zheng Gu Shui is used today to treat pain and trauma. It successfully heals injuries related to muscles, bones, and joints, such as backaches, arthritis, strains, bruises, sprains, and breaks. Zheng Gu Shui is an external analgesic salve and is a must-have for everyone's first aid cabinet.
Evil Bone Water is well known in martial arts and sports medicine circles for its quick and effective healing properties and pain relief. Used by martial artists to aid in the healing of iron fist training, it is believed to stimulate circulation, reduce pain and swelling, and improve the healing of injuries and wounds.
Today the most common applications for Zheng Gu Shui involve traumatic injuries, bruises, and sprains. However, many people have found Zheng Gu Shui helpful for common ailments like carpal tunnel and arthritis.
The Origins of Evil Bone Water and Why It Is Better Than Zheng Gu Shui
Evil Bone Water has made a splash in the Chinese medical community. This popularity is because its premium herbs are ethically sourced. In addition, the quality of ingredients is upgraded to surpass traditional Zheng Gu Shui.
Practitioners are discovering how to use Evil Bone Water for martial art conditioning, such as in iron fist training. Meanwhile, western practitioners are learning to use it clinically for arthritis and joint pain.
The original formula of Zheng Gu Shui had 26 ingredients. These ingredients were local to the herbalists who made the topical, and there wasn't enough to support high-quantity production. Eventually, the demand for Zheng Gu Shui became too high for local herbalists to supply. Mass-market herbalists took the product to the commercial market but had to lower the quality of the product. They removed all but 7 of the original ingredients in the traditional Zheng Gu Shui formula.
We recognized the ineffectiveness of this product. Essential ingredients were left out, making the liniment sub-par. Evil Bone Water rose to the challenge of creating the most effective product on the market by including four essential ingredients mass-market herbalists leave out of their formulas.
What Are the Ingredients in Evil Bone Water?
We have provided a complete ingredient list of Evil Bone Water, including supplemental information regarding each ingredient used. In addition, we explain why each component is used and what benefit it provides.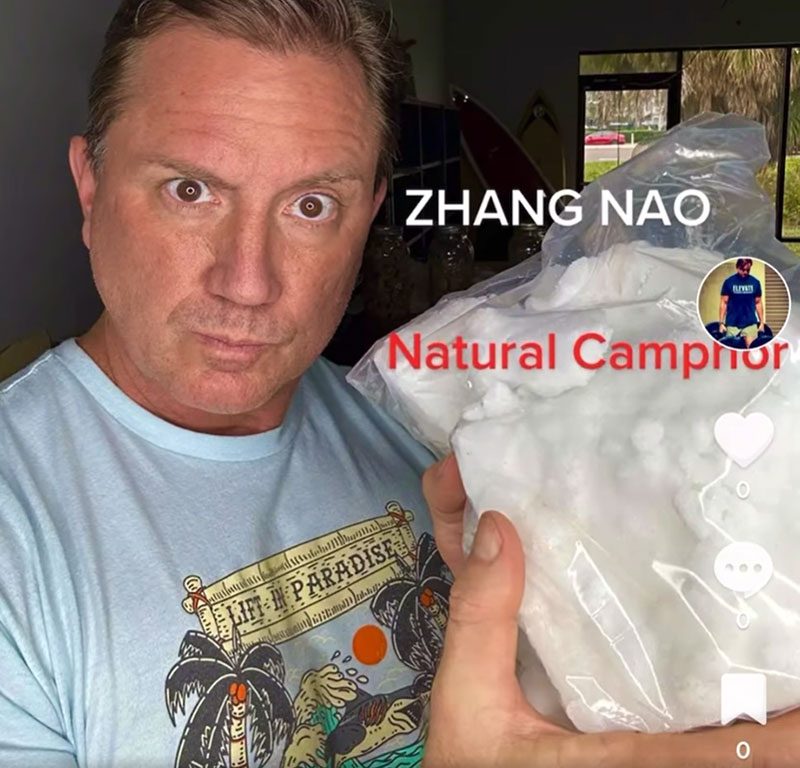 Zhang Nao, Camphor, Cinnamomum Camphora
Increases local circulation and relieves pain. Camphor is a natural product derived from the
wood of the camphor Laurel Tree (Cinnamomum camphora L.) It increases circulation and relieves pain.
The trees that Camphor is derived from are 50 years old. First, the camphor laurel tree's wood is steamed or roasted. Then those vapors are caught and condensed to capture the volatile oils.
Zhang Nao is highly graded, medical quality camphor and a key ingredient Zheng Xie Gu Shui.
Genuine, medicinal-grade, natural Camphor only comes from trees that grow in Southeast Asia. Other regions cannot grow trees with enough medicine to make harvesting for Camphor worthwhile.
The synthetic version of Camphor is made from the stumps of the southern pine tree. It is produced through a chemical process similar to turpentine. However, the difference between synthetic and natural Camphor is striking. While natural turpentine oil from southern pine trees has some healing properties, it is unsafe to use directly on the skin. Unfortunately, synthetic Camphor became popular because it is less expensive to produce. In addition, Southern Pine trees are more abundant than Camphor Laurel trees, making it possible to produce larger quantities of synthetic Camphor.
Fun Fact About Synthetic Camphor
In WWII, Camphor was used in the U.S. as a critical component in insect repellant. The prices for natural Camphor skyrocketed since the commodity was only produced in Southeast Asia. The demand was so high its value exceeded that of gold! However, scientists in America found a way to synthesize Camphor from the Southern Pine Tree stump, the same tree that produces medicinal-grade turpentine oil. To this day, the discovery of synthesis is the only thing that keeps Zhang Nao's prices regulated!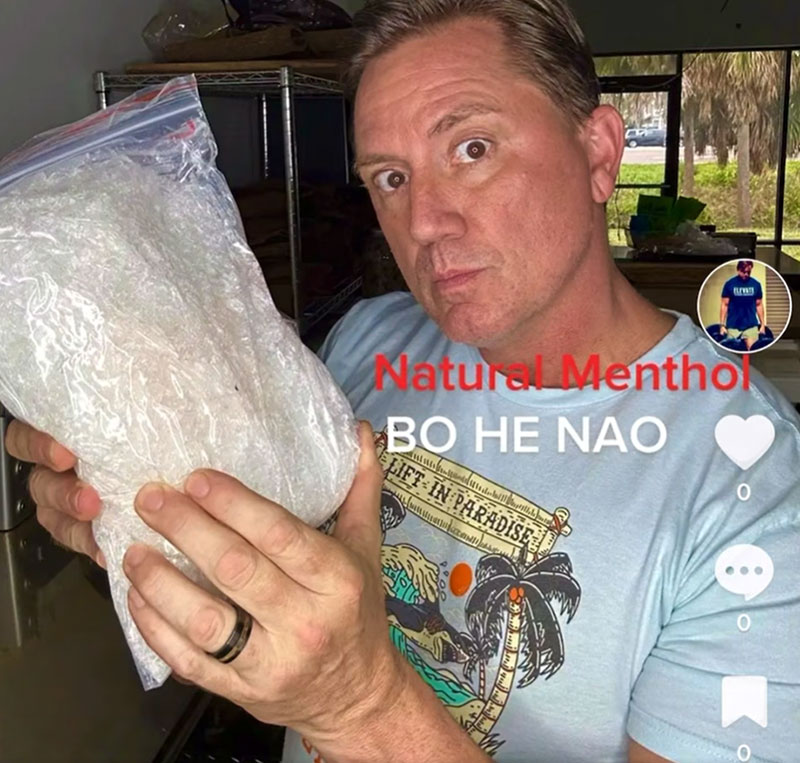 Bo He Nao, Menthol, Menthae Haplocalycis Herba
This ingredient is aromatic and provides cooling and clears heat from the body. Vent rashes are used in the early stage of inflammation to induce the rash to come to the surface and vent heat, leading to a speedy recovery. Menthol is a derivative of peppermint and is either extracted as oil or synthesized.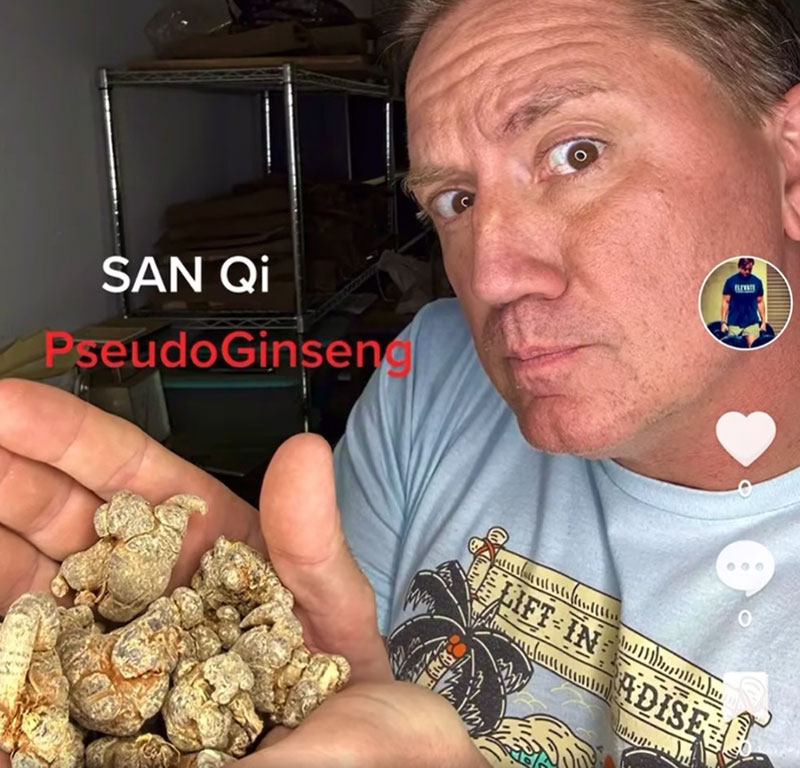 San/Tian Qi, Notoginseng, Pseudoginseng
San Qi stops bleeding and eliminates blood stasis. It also reduces swelling, bruising, inflammation, and pain from trauma.
San Qi is expensive and is as hard as a rock. It takes special handling to extract it properly, however its healing benefits are worth the trouble. San Qi stops bleeding without clotting and reduces swelling and pain. It also has some profound synergistic effects with antiviral and antibacterial herbs.
In Chinese medicine, San Qi has been reported to have several benefits, including reducing thrombogenicity and arrhythmias and increasing erythrocyte deformability. Additionally, San Qi has been said to be an antioxidant, which can counteract free radical damage associated with atherogenesis and myocardial injury seen with ischemia and reperfusion. These pharmacologic effects explain why this essential healing herb has been used to treat circulatory disorders for centuries.
Source: Chan, Paul, G. Neil Thomas, and Brian Tomlinson. "Protective effects of trilinolein extrated from Panax notoginseng against cardiovascular disease." Acta Pharmacologica Sinica 23.12 (2002): 1157-1162.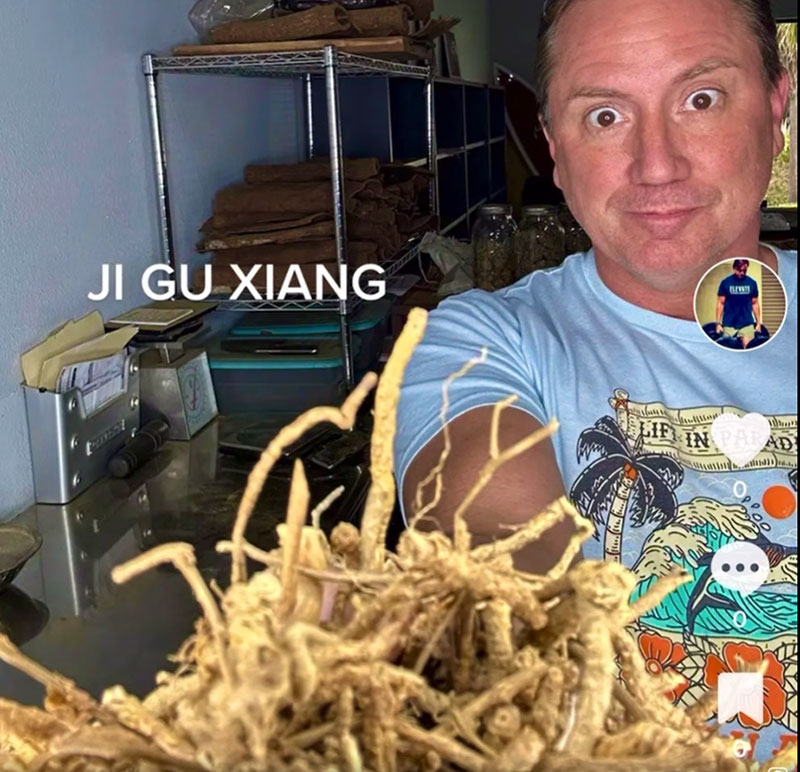 Ji Gu Xiang, Japanese Knot Weed, Eupatorii Herba, 47, OR Linderae Radix
Ji Gu Xiang is translated to mean "Cracked Chicken Bone." However, this ingredient is actually a root. It got its name because it resembles chicken bones. This potent ingredient is incredibly rare and difficult to source, even in its native country of China. Ji Gu Xiang is effective in treating bruises, sprains, and inflammation. It also helps to alleviate pain.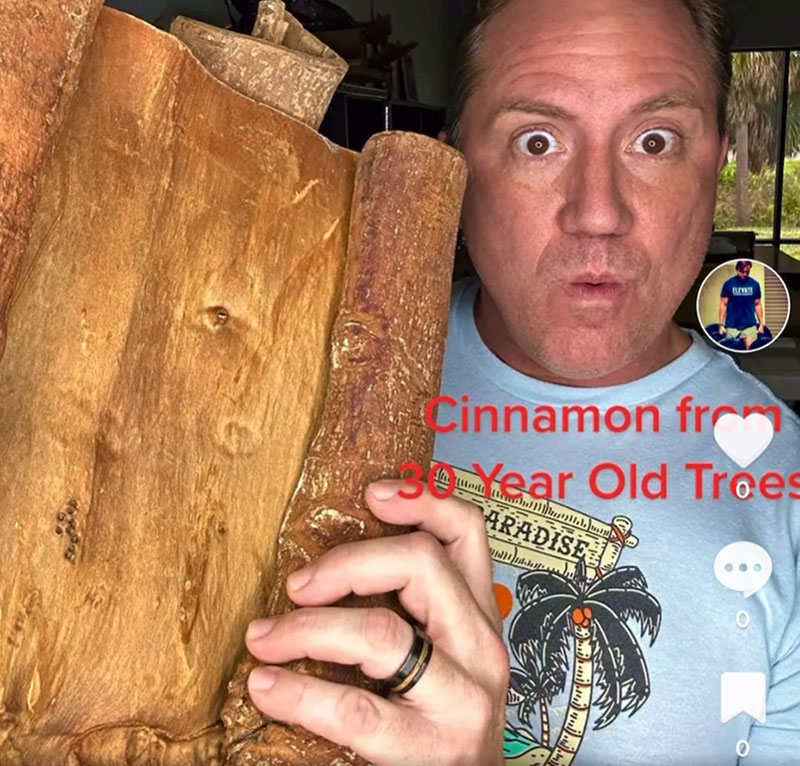 Gui Pi, also known as Cinnamon Bark, releases muscles, promotes circulation, and warms. This picture shows a fabulous, imperial-grade Gui Pi (Cinnamon Bark) that just came in from a Botanical Biohacking agent in China. This Gui Pi came from trees 20-30 years old and will provide enough medicine for thousands of Zheng Xie Gu Shui bottles. The colors of this bark are beautiful. It emits a dense and complicated smell unique to this ingredient of Evil Bone Water.
Gui Pi Pre Soak Process
After soaking for only a few hours, this photo is of our Imperial Grade Gui Pi. Certain herbs are pre-soaked before adding them to the Evil Bone Water decoction. Pre-soaking Gui Pi prevents its volatile oils from escaping in the cooking process. These potent oils offer several healing benefits and must be applied directly to the skin. Pre-soaking is an extra step we take to ensure we get every last drop of oil into Evil Bone Water. Next, we pre-soak the Gui Pi (cinnamon bark) in Everclear and the other herbs in water. This process helps to soften the cell walls before decoction and allows for total alcohol extraction. The extracted goodness will return to the pot when it's cooled enough.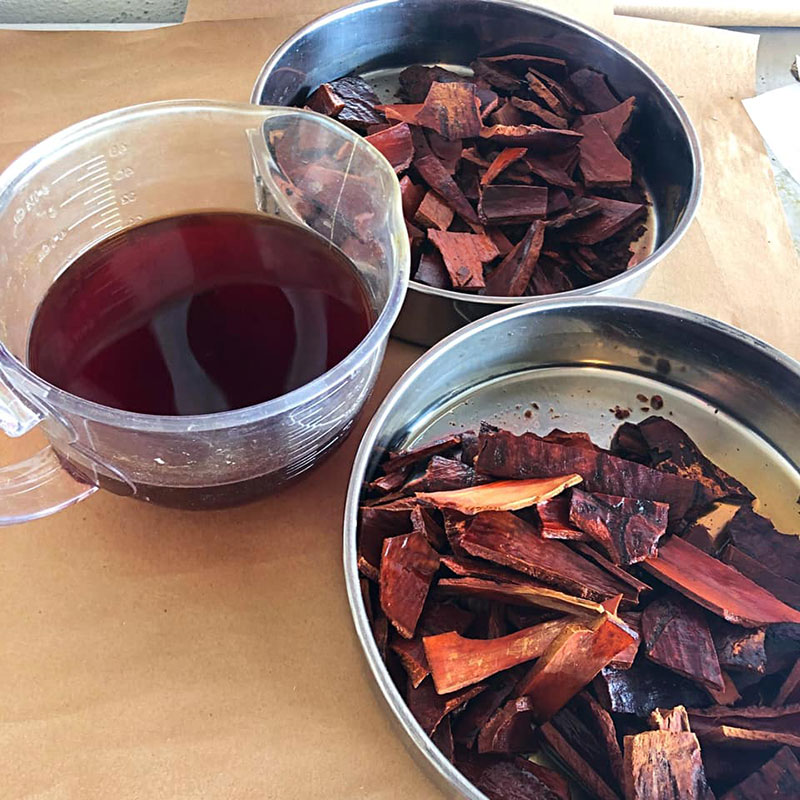 Pre-soaking Gui Pi is not necessary, but we are dedicated to creating the best linament on the market. We include steps that take additional time and care but result in better medicine. Each batch of Evil Bone Water is handmade to ensure the highest quality product.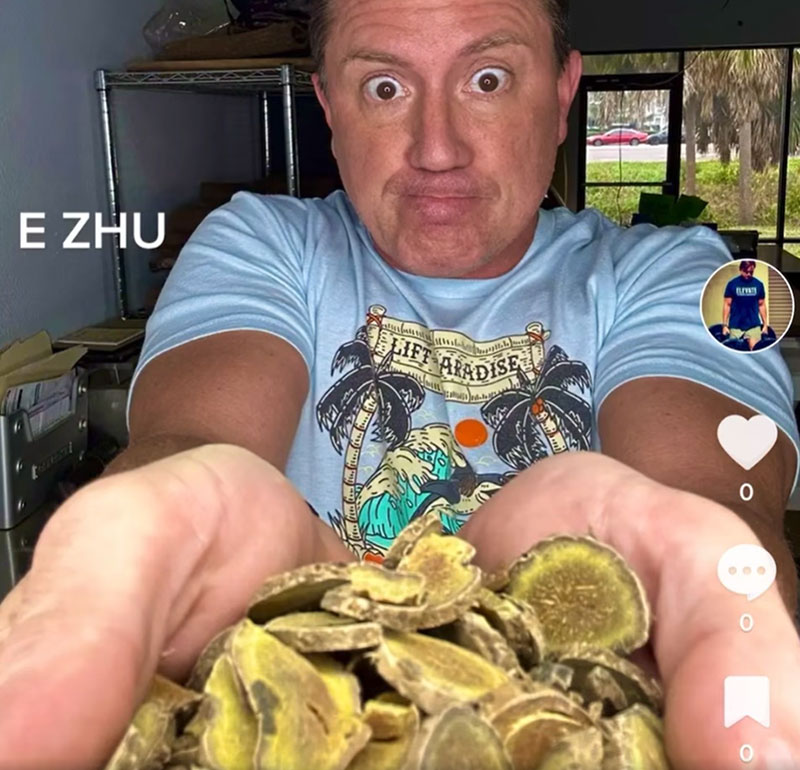 E Zhu, Zedoary Rhizome, Rhizoma Curcumae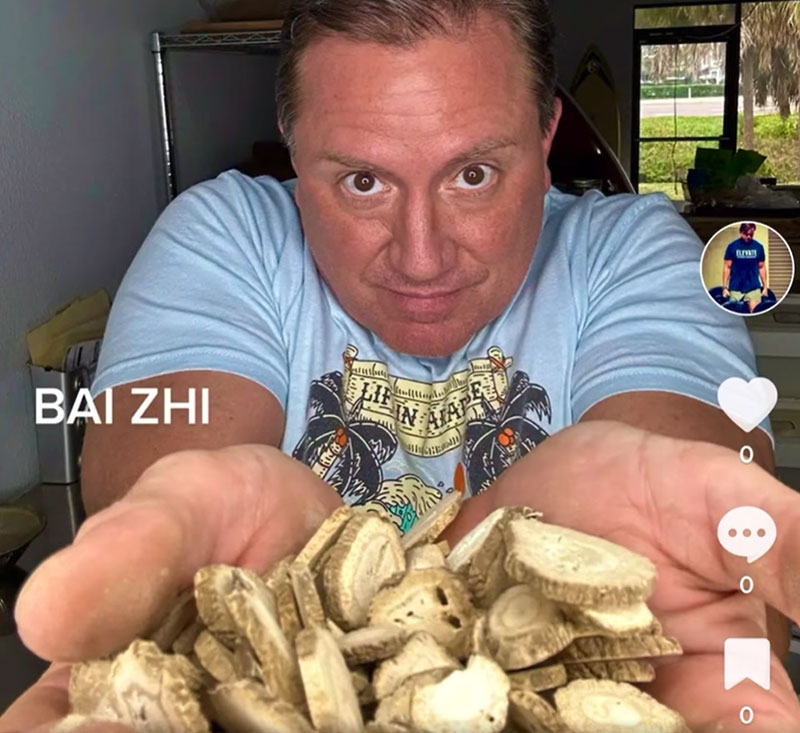 Bai Zhi, Angelica dahurica
This ingredient is darkly colored and very aromatic. It imparts a sweet smell to the formula reminiscent of maple syrup. The aroma is robust and will linger on your body.
In traditional Chinese medicine Bai Zhi, it is praised for its therapeutic effects in treating colds and headaches and alleviating pain. It also effectively reduces swelling, eliminates toxins, and expels pus. In addition, Bai Zhi has various bioactivities such as anti-inflammation, anti-tumor, anti-oxidation, analgesic activity, and antiviral and antimicrobial effects. This is just one of the many herbs that make Evil Bone Water so powerful.
"Research has also shown that both crude extracts and active components of A. dahurica possess a wide range of pharmacological activities, including anti-inflammation, anti-tumor, anti-oxidation, analgesic activity, antiviral and antimicrobial effects, effects on the cardiovascular system, neuroprotective function, hepatoprotective activity, effects on skin diseases."
Zhao, Hui, et al. "The Angelica dahurica: A review of traditional uses, phytochemistry and pharmacology." Frontiers in Pharmacology (2022): 2367.
Magical Properties of Bai Zhi
Exorcism
Protection
Healing
Sprinkle the house's four corners with Bai Zhi to ward off evil. Then, add it to a bath to remove hexes, curses, and any spells cast against you.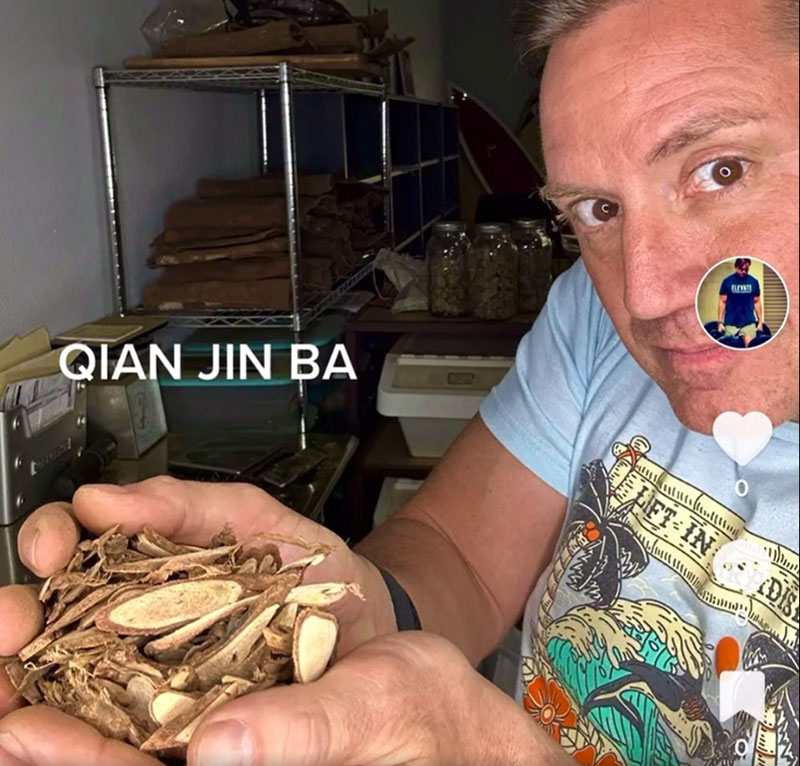 Qian Jin Ba, Philippine Flemingia Root
Qian Jin Ba strengthens tendons and bones. This herb is acrid and warm. It effectively removes cold and dampness from the body, commonly present in conditions related to arthritis, bone pain, fractures, and sciatica.
We get Qian Jin Ba wildcrafted in large bundles of roots. We only use imperial-grade herbs to ensure the maximum amount of herbal medicine is in every batch.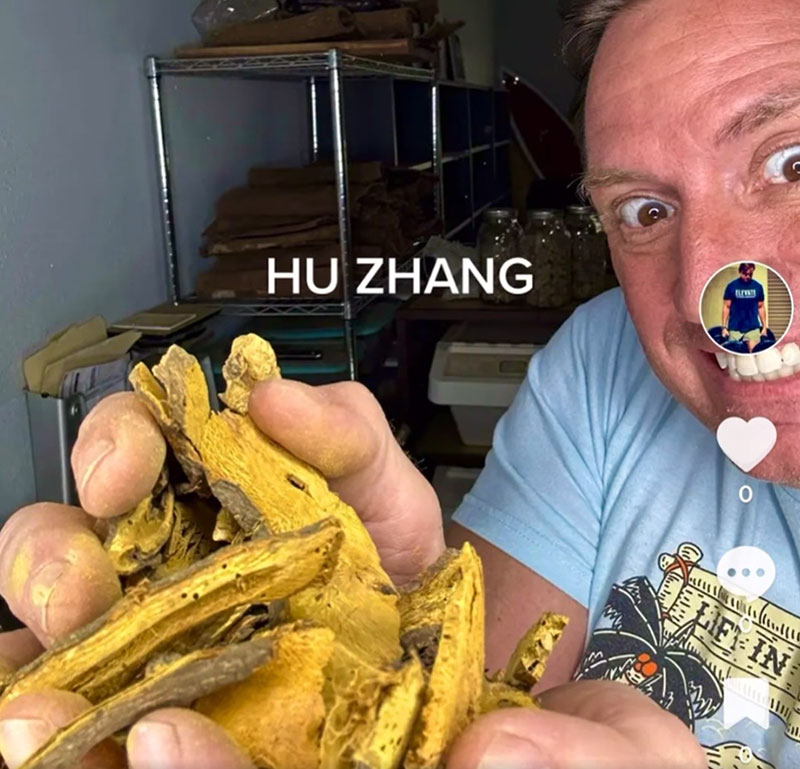 Hu Zhang (Japanese Knotweed Root)
Reynoutria japonica houtt is a favorite herb with a deep, rich smell. It works by invigorating the blood and dispersing stasis.
Hu Zhang is effective in clearing heat in the body. It is used to discharge toxins, burns, pus, and carbuncles. This same property also helps with inflammation. Hu Zhang promotes the healing of burns by enhancing the immune system and cardiac functions. Leaves of R. Sachalinensis are used as a disinfectant and are protective against boils.
In China, Hu Zhang is currently used in combination with other herbs to treat inflammatory diseases, including hepatitis and suppurative dermatitis, favus, jaundice, skin burns, scald, cough, amenorrhea, and hyperlipidemia. Hu Zhang contains resveratrol, polysaccharides, flavonoids, quinones, and large amounts of condensed tannins.
We use substantial amounts of the highest quality Hu Zhang in Evil Bone Water.
Navrátilová, Zdeňka, and Maribel Ovando. "Biologically active compounds of Knotweed (Reynoutria spp.) Review article." (2017).
Why Evil Bone Water is Superior To Other Zheng Gu Shui Formulas
Marrying and mixing herbs through decoction and alcohol extraction creates Evil Bone Water's unmatched potency. We use the highest quality ingredients and the best production methods. Evil Bone Water is set apart from the competition in several ways:
Evil Bone Water is crafted using imperial-grade herbs that are 2-5 grades above the C-quality herbs used in most other products made by U.S. supplies
Evil Bone Water has no animal products.
It is non-GMO, gluten-free, cruelty-free, pesticide-free, and contaminant free.
The Camphor and menthol in Evil Bone Water are natural. Competitors use lesser-quality synthetic versions,
We only use 190 Everclear in our topical ointment. Other manufacturers use cheaper products like ethanol or isopropyl alcohol.
190 Everclear Vs. Ethanol
While ethanol is 800% cheaper than 190 Everclear, topically applied ethanol acts as a skin penetration enhancer and may facilitate the transdermal absorption of herbs. The topical application of 10% ethanol stimulates the proliferation of skin, which can be interpreted as a positive influence on the stimulation of wound healing. In addition, studies show that ethanol on the skin increases blood vessel dilation. The ethanol also breaks down lipid or skin oils which can enhance hydration because of increased cutaneous permeability to alcohol.
The decreased skin oil lowers the skin barrier function and makes the membrane more permeable. This action also explains how ethanol can help other herbs penetrate the skin, explaining why ethanol has such a strong effect as a skin penetration enhancer.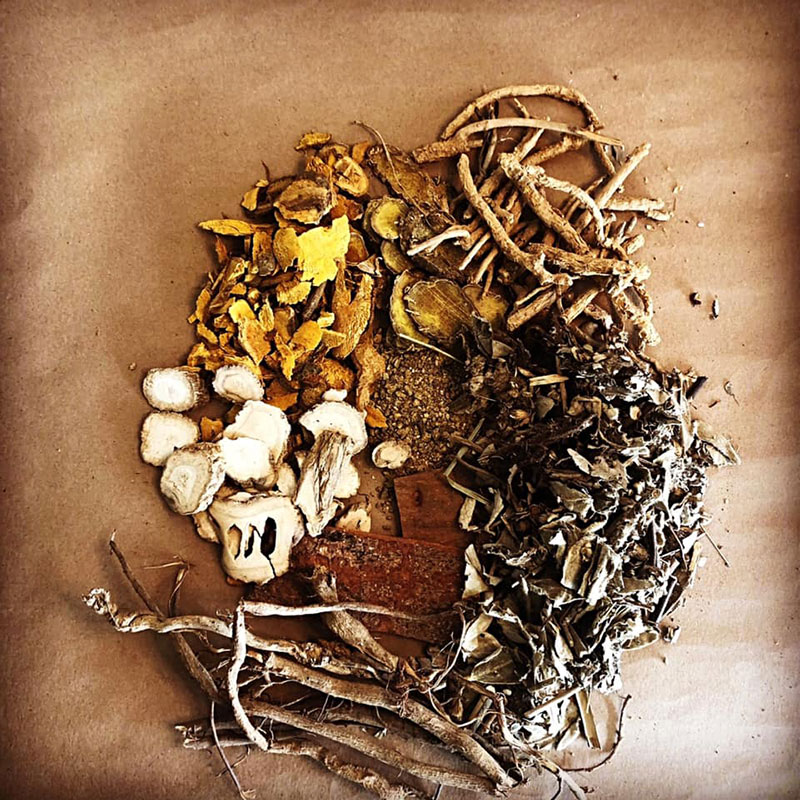 Imperial-Grade Herbs in Evil Bone Water
Every herb is microscopically tested for proper variety, contaminants, and strength. We make sure all ingredients are sustainably and ethically sourced. Everything that goes into a bottle of Evil Bone Water comes from the finest ingredients on the planet.
In addition, we pre-soak certain herbs for 12-72 hours before adding them to the Evil Bone Water decoction. Doing this prevents volatile oils from escaping during the cooking process. The extracted goodness will return to the pot when it's cooled enough. Pre-soaking is an additional step we take to make sure our Evil Bone Water is produced with the highest quality standards. Zheng Xie Gu Shui is our passion. That is why each batch is handmade with the best possible ingredients.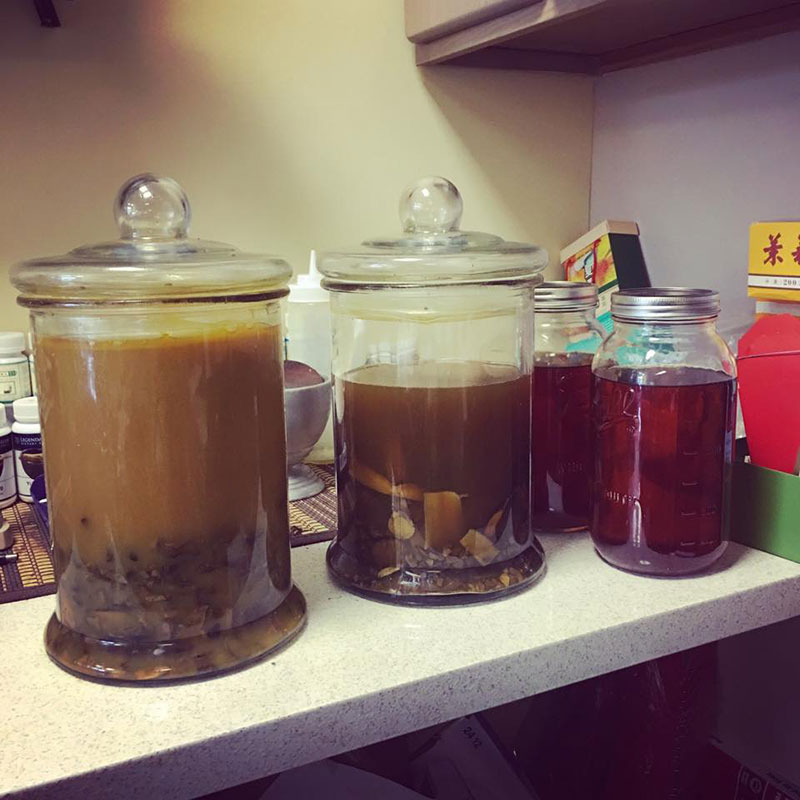 Finally, we use a complex double extraction process to ensure every last drop of medicine is pulled from these fantastic herbs. The "dregs" from a batch are never boiled twice. Instead, they go into fresh alcohol and sit for weeks or months, awaiting use in next-generation batches. They are technically good enough to use by the time they have soaked, but we take it one step further. The resulting alcohol extraction will then make current Evil Bone Water batches. This "double extraction" process is unnecessary, but it is one of the premium quality details we do to make the finest product possible.
When it comes to natural pain relief, nothing beats the powerful healing benefits of Evil Bone Water. It effectively stops the pain associated with backaches, arthritis, strains, bruises, sprains, breaks, and other ailments. Since its development by a Chinese Master Herbalist over 500 years ago, Evil Bone Water has stood the test of time and is used widely among practitioners for treating pain.
Evil Bone Water from our clinic contains no animal products and is non-GMO, gluten-free, cruelty-free, pesticide-free, and containment free. Every herb is microscopically tested for proper variety, contaminants, and strength. We make sure they are all sustainable and ethically sourced. Everything that goes into the bottles comes from the finest ingredients on the planet.
Buy Evil Bone Water Today!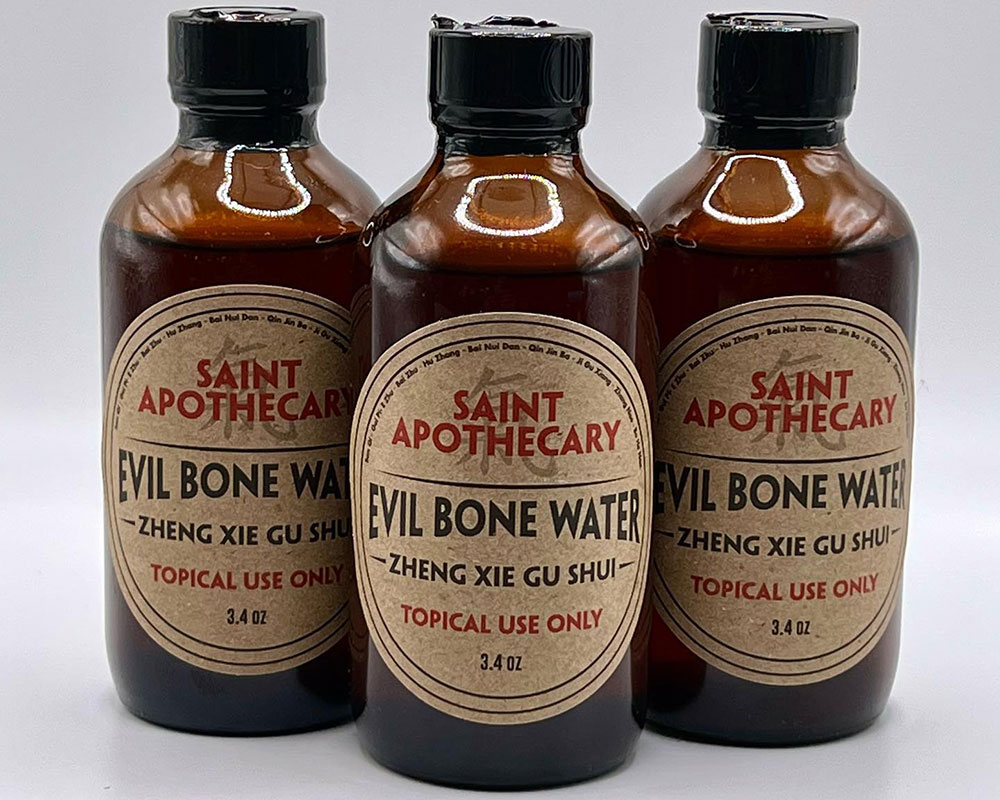 Evil Bone Water (Zheng Gu Shui) is a Chinese topical medicinal hand-crafted with only empirical grade herbal ingredients in an approved facility.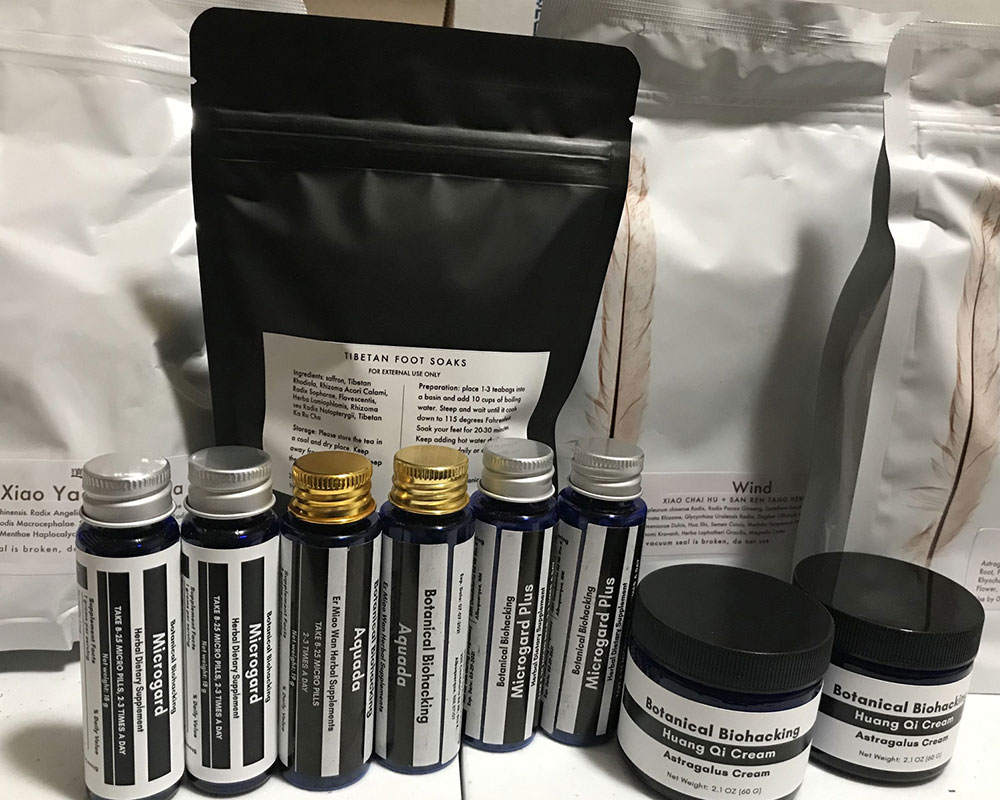 We make available natural products that have been observed to make a difference in the lives of our patients, friends and family. You're in good hands shopping with us.